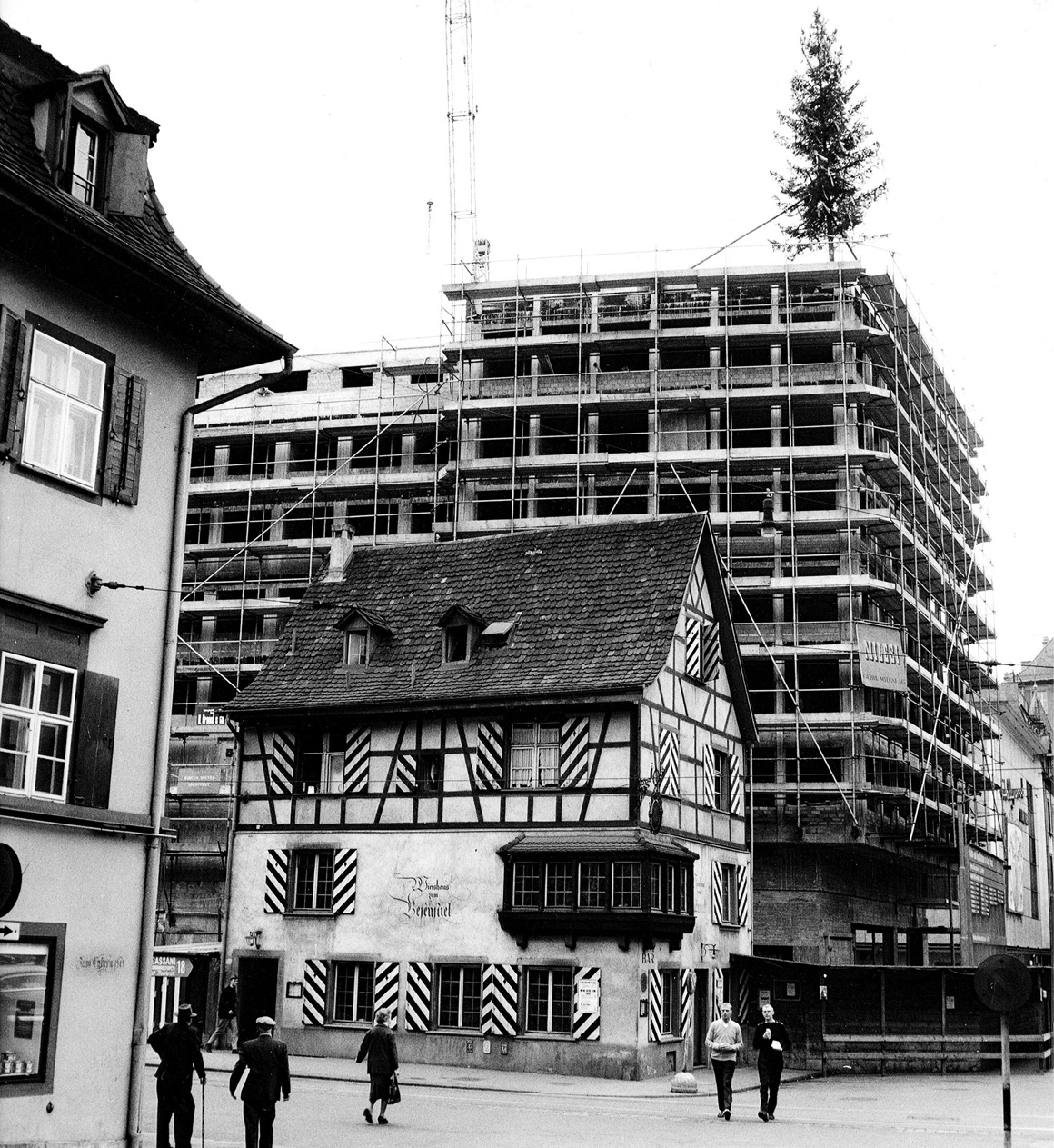 On the left, the former guest house and today's restaurant Besenstiel. Opposite, in the center of the picture, the former restaurant Besenstiel.
«Zum Besenstiel» at Klosterberg
Pension
Before the present-day city theatre was built, the Steinenkloster – a convent – stood in place of it for centuries. The property at Klosterberg 2, today's Restaurant Besenstiel, used to be a boarding house for women who came to this convent on a pilgrimage.
Pub
The guest house later became a pub mainly visited by craftsmen and coachmen who used to leave their brooms (used to sweep up after their pack horses) at the entrance – which is how the restaurant came to be named «Zum Besenstiel», the German term for "broomstick".
Reopening
Before it reopened in December 2001, thanks to a generous private donation («Ladies First») and public financing by the City of Basel, the old Besenstiel was renovated into a restaurant with direct access to the playhouse. Interior architect Marianne Daepp and architect Martin Pfister developed a minimalistic design with clear, simple lines that, together with a carefully defined lighting concept and precious materials such as walnut and shale, creates an incomparable ambience. From September 2003 to May 2016 Caroline Burger and João Ferreira led the restaurant Besenstiel to success. Since June 1, 2016 Olivier and Alice Flota – Bigliel are the new owners and manage the restaurant operation and the break buffets at the Schauspielhaus.
Alice and Olivier Flota-Bigliel
The couple Flota hosts with years of experience in renowned companies in Basel. Olivier Flota worked, to name a few, at the restaurant Safranzunft, Noohn, Gifthüttli and the Grand Hotel Les Trois Rois, where Alice Flota-Bigliel is still active. On weekends, however, she supports her husband Olivier active and takes over important office functions.
Business card and meeting place
The historic restaurant Besenstiel is a business card for Basel and his theater, as well as a meeting point and a come together in the traditional and modern atmosphere and enjoyment. The restaurant, together with the well-maintained and atmospheric "Besenstiel -Bar", with its expansive selection of Gin's and the beautiful silver hall, with stucco ceiling and crystal chandelier, on the first floor, builts an ensemble.